Word Ladders (or laddergrams) change one word into another by altering one alphabet or group of alphabets according to the rules. And, each change must create a new meaningful word. The concept was initially being introduced by "Lewis Carroll." It's a fun game that can encourage and enhance a person's vocabulary. 
A word ladder puzzle is made of two end cap words, and the aim is to find a way to transform/morph/change a word into another in the least number of steps. Word ladders can be of different types and levels. Mainly there are four types; 3-letter, 4-letter, 5-letter, and 6-letter words. 
Ladders changing one letter at a time are comparatively easier than ladders changing more than one alphabet. Start with the bottom word and try to change words to form new ones; it might take three, four, six, seven, or more steps to reach the final word.
Here's an example with pictorial representation. Here, you can only use the letters given.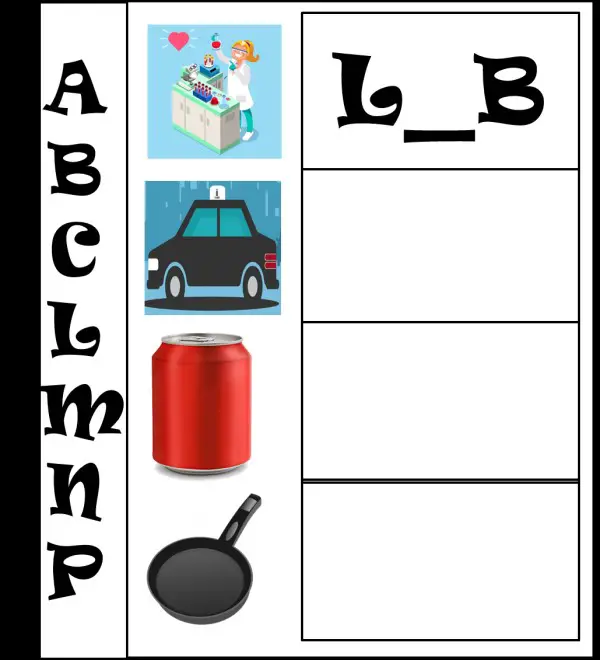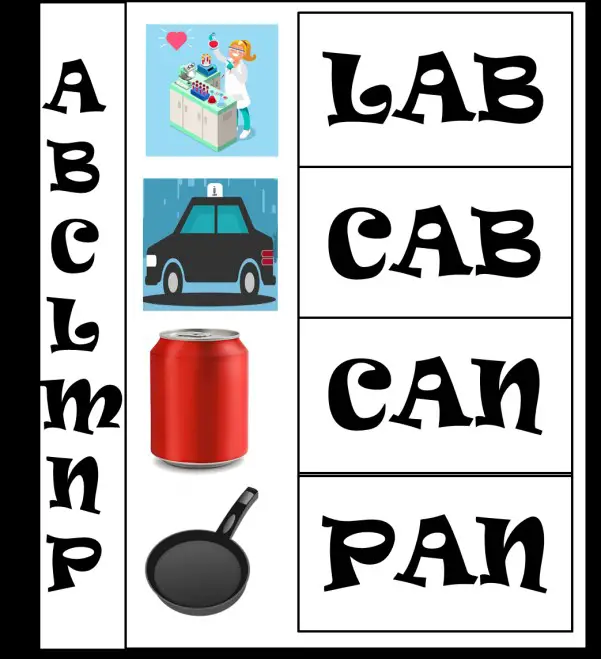 3 Letter Word Ladder Examples :
We have just seen the Word Ladder Picture Puzzle. Let's start with an easy one, i.e., a 3-letter puzzle. Here, one letter can be changed at a time and should form a new word. Transformation resulting in non-word is not allowed. The word length should remain the same. Players will be given a starting word and an ending word (with no hint transformation).
FLY to CRY: FLY > FRY > CRY
DOG to CAT: DOG > DOT > COT > CAT
APE to MAN: APE > APT > OPT > OAT > MAT > MAN
APE > APT > OPT > OWT > OWN > OAN > MAN (Here, OAN may or may not be considered a word as it's an abbreviation of "On Another Note" which is used in communication).
APE to MAN or MAN to APE is a great example of how things can get complex even in 3-letter words.
4 Letter Word Ladder Examples :
Now let's see the 4-letter Word Ladder. Do you need to transform the word "FOOL" into "SAGE," tricky one? Well, not really, but it needs vocabulary. Following is a possible solution to the given problem.
FOOL > POOL > POLL > POLE > PALE > SALE > SAGE
FOOL > MOOL > MOLL > MOLE > MALE > MAGE > SAGE
You can solve the same word puzzle using a different approach. But, we want to find the shortest way (with the least number of transformations). Few more examples are as follows:
WORDS to STAIR: WORDS > WOADS > ROADS > ROARS > SOARS > STARS > STARE > STANE > STAND > STAID > STAIR
KIDS to GIFT: KIDS > KIFS > RIFS > RIFT > GIFT
DATA to FILE: DATA > DATE > DALE > BALE > BILE > FILE
KIDS to ZONE: KIDS > KINS > KINE > BINE > BONE > ZONE
5 Letter Word Ladder Examples :
As word length increases, there are more letters to change, i.e., steps increases. And, it's not always possible to find an appropriate solution for each transformation due to the need for valid words.
FLITE to CLEAN: FLITE > FLITS > FLIPS > CLIPS > CLIPT > CLEPT > CLEAT > CLEAN
BULKY to ORDER: BULKY > NULKS > BILKS > BILES > BIDES > BIDER > AIDER > ADDER > ODDER > ORDER
Here, this one was pretty tricky and required nine steps to complete. We have to change the valid word to another meaningful word, but it involves vocabulary knowledge. Probably the most extended word ladder is the transformation of "CHARGE to COMEDO". This ladder takes a total of 22 steps.
Working of Word Ladders:
To solve a word ladders, you need to keep the rules in mind. Then, find the nearest and most suitable transformation possible.
Let's say we want to change "WAIT" into "PAST." Now, here we have T common, so we will try to keep it unchanged. Next, we will operate on three remaining letters (W, A, I). Following is a pictorial representation of the comparison. First, we have tried replacing "W" with another 25 letters.
Similarly, we have done with the other two letters. Finally, we got "WAST" as a suitable word to move on with. Now, we have two letters matching with our end word, i.e., "S & T." So, now let's focus on "W & A." The work is now, change "W -> P." We have changed the word using two steps.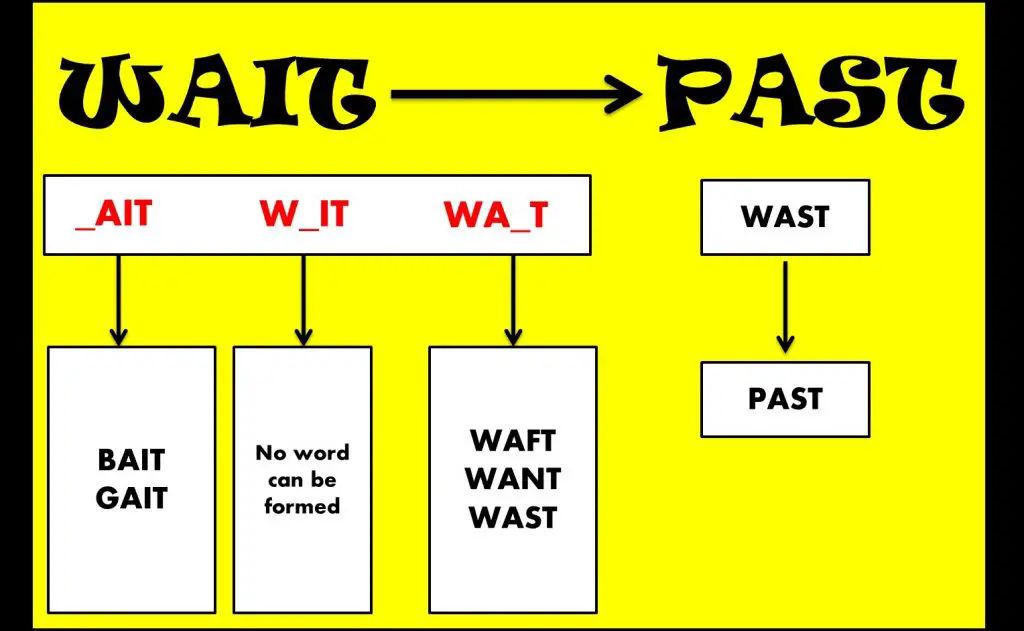 Meanwhile, if both words didn't have many similarities, we may check every letter's possibilities. Let's take an example, "SLOW to DOWN." Now, the nearest possible is "SLOT." Next, likely can be "SOOT, SHOT, SLIT, etc.". We have selected "SOOT." 
Now, by seeing the word we can easily say "SOON" is the best suit word because we get "N" at the same place in both words. The work gets easy now; O and N are in place, so we will try to change "S and O." Now, we can either use "DOON or GOON." If we select "DOON," the next step automatically is replacing O with W, and we get "DOWN."
 If someone selects "GOON," then the next step is replacing "O" with "W," making it "GOWN." Finally, the word is transformed as "DOWN." There are many ways to change a word; take the first step, and replace the alphabet. 
Another great example is "BATH to TUBS." It's all mental; try replacing alphabets or thinking of relatable words. There's one more unique method of solving such questions "Going Reverse." 
In this method, try to make the last word like the initial one. In the given example, TUBS can be made "CUBS, PUBS, HUBS." Let's consider "CUBS."
Now, try to get any letter of initial into CUBS. Here, we can get CUTS, which gives us "T" in the right position. Now, T is at its place. Let's place another word. Next is "CATS, now only two letters are remaining, which makes the further process easier.
Then, we get OATS > OATH, and finally "BATH." So, try to start from a word that has some rhyme or nearby words. Going reverse isn't necessary, but sometimes it makes the job easier. 
Conclusion:
Spending hours on video games or mobile games does nothing good. But playing word ladders improves vocabulary, memory, and problem-solving skills. Solving word ladders and making new words allow people to notice patterns and learn new words and meanings.
Once you start solving Word Ladders, you will automatically figure out the possible pattern and way to solve it. There are many word ladder activities for different age groups with varying levels of difficulty. Now, even if you are alone, you have got a handy puzzle to solve.