Dot Markers, also known as "Daubers," are thick markers with a spherical color sponge on top of it. Little kids can use them for arts or just making colorful dots. 
They love colors, and they express their creativity through art and painting. Usually, kids turn the walls into their creative canvas and, you shouldn't stop them from doing it. Instead, let them express themselves through accessible tools designed specifically for them.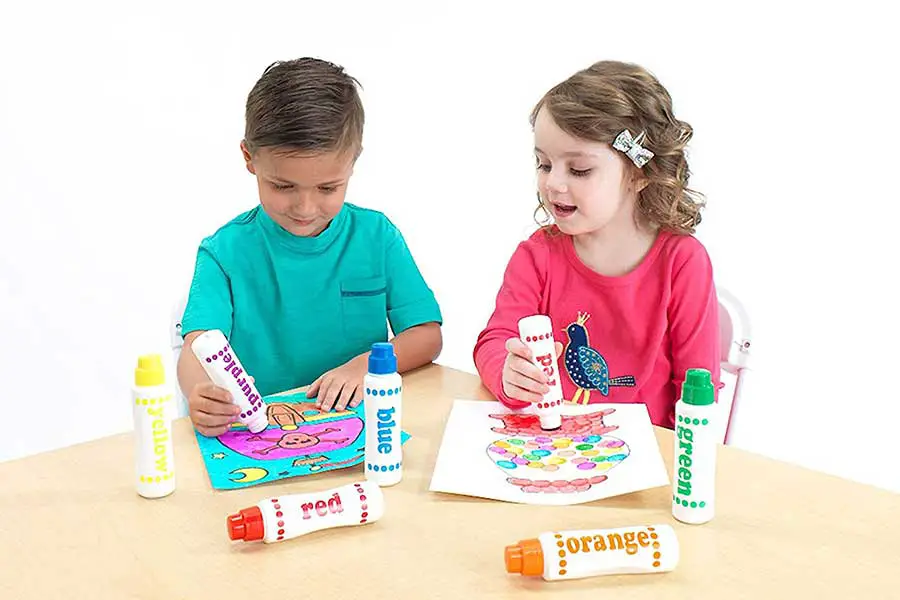 Dot Markers are one such tool designed so thick that a toddler kid who hasn't developed fine motor skills can grip it. A regular size marker is thin, which makes it difficult for kids to use it. Using dot markers, kids can express their inner creativity and may also experience the joy of creating. Dot Markers can be used on a dot marker activity book designed for kids. 
Dot markers are heavier on the pocket than crayons, watercolors, and color pencils. Then why buy dot markers? The table below is self-explanatory.
| | |
| --- | --- |
| Crayons, Watercolors, Color pencils | Dot markers |
| They are thin, that is not suitable for a toddler's grip | Designed thick that a toddler kid can grip it. |
| Not dermatologically tested | Usually dermatologically tested |
| Color pencils are sharp, which can harm your child. Watercolors can create mess. | Not sharp, easy to use, and spill/leak-proof, ensuring a mess-free arena |
Color Pencils/Crayons/Watercolors vs. Dot Markers
Toddlers find it difficult to draw straight lines, shapes, or figures. Dot Marker Activity Books have drawings/pictures made up of dots that a child needs to fill using dot markers. The kid develops grip, eye-hand coordination, and uniformity. 
Dot Markers are leak-proof with little to no chance of color leakage. But, even if the least probable thing happens, there's nothing to worry about. The colors are entirely washable.
How to Buy Best Dot Markers Activity Books?
Dot Markers Activity Books are fun to use books for kids. They can be a helping hand to make learning enjoyable. 
You can buy dot markers and books separately. Publishers also offer combos that are slightly cheaper than buying individually. By buying combos of marker and book, you might save few bucks.
These books are also available for preschoolers. The best dot markers are the ones that can be washed or wiped with a cloth. Simple paper ones are used and throw. Reusable ones are usually the best.
Benefits of Dot Markers
Dot Markers are a safe and excellent tool for drawing. Might you think that's all? Isn't there anymore advantage of purchasing it?
Well, there are plenty of benefits of buying dot markers. Few surprising ones are as follows:
Improves Hand Dexterity, grip, and fine motor skills: 
It develops the ability to coordinate hand and finger to grip or grasp an object. Playing with dot markers, the child develops neurological functions for movement. This skill needs to be developed in childhood.
Kid develops hand and eye coordination:
As they place the marker on dots they see, they build coordination between hand and eye. Trying to aim for the dot and accurately placing it increases coordination. Hand-eye coordination is fine, and gross motor skills. 
Develops Color Recognition and artistic approach through color choice (Visual learning):
Solving the dot marker activity book, the child starts to recognize colors and their use. The child also tries different colors, which develops an artistic approach. Meanwhile, they also recognize colors and their names. 
Strengthens motor skills as the child tries to aim for dots with specific colors:
Motor Skill is a function in which muscle movement is involved with a predetermined act (intent to perform a task). While solving an activity book, a child develops fine motor skills responsible for fingers, hands, and wrist movement. Trying to place the marker accurately every time lets them gain such fine motor skills. It also encourages them to make every dot perfect. 
Encourages creativity and exploration:
Turn on the curiosity switch. Kids try different colors and experiment with their effect. This curiosity brings a different result from other colors. The kid can create patterns using colors differently. Thinking outside the box, creating something unexpected
The Feeling of accomplishment:
The joy and aspect of completing an activity give immense pleasure to a child. It makes them feel happy and calm. It not only keeps them comfortable but also builds confidence.
Saves your home wall from becoming a canvas:
Last but not least, giving your child a book to color may save your walls. 
These were a few advantages of using dot markers and its activity books. However, there are few more advantages from the manufacturing end as follows:
The marker tip doesn't dry quickly, even if it's left open for a long time.
Dot colors remain the same even if overlapped with a different color.
Vibrant colors make it attractive and fun for kids.
The color in the marker lasts longer than its alternatives like crayons, colored pencils, and watercolors. 
Safe to use for kids; no sharp objects, skin ally, and durable.
Checklist while Purchasing Dot Markers:
They should last for a long time
You can use it on various surfaces
Skin Friendly
Should never contain any toxic element 
Washable
PET friendly and suitable for all ages
No sharp objects
Always buy activity books according to age. Activity books can be of alphabets, numbers, or artworks. Purchase any book your child might find interesting. Usually, people buy artwork books followed by alphabet and number.
Conclusion
Dot Markers are a fun and handy tool for your children. It develops specific skills talked about earlier without messing up your home. While buying dot markers, you may compare several markers and books based on price, feature, design, color, and brand. But don't forget to check out the checklist we discussed. Also, read reviews and testimonials for a better decision. So, buy a few dot markers, activity books and save your walls.